Custom Shop-Built Services​
Some projects don't fit neatly into a category. Custom designs and one-off projects can be some of the most challenging to source. At Prusak's Precision Construction, our craftsmen are skilled problem solvers and welcome the opportunity to be a part of one-of-a-kind and out of the ordinary projects. From planning and prototyping to finished product, we'll work with you to arrive at the perfect customized solution. Explore examples of our wood art and other custom work and see how we've helped our customers with some of their most unique design challenges.
Solid Surface Never Paint Doors (Patent Pending)
We've developed a patent pending seamless door that is extremely durable and never needs painting. Designed for high traffic commercial settings, this low to no maintenance solution eliminates the need to continually repaint and replace worn out doors.
With the need to clean and sanitize surfaces more than ever, our customers need a finish that can hold up to the constant wear and tear from chemicals in the cleaners. That's why we've developed an extremely durable UV finishing process for fixtures and other wood surfaces. This new UV finish can hold up to harsh cleaners and hand sanitizers and still looks like new at the end of the day.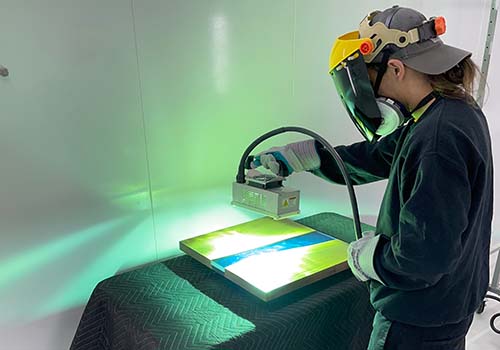 Refinishing Exchange Programs
When one of the world's leading computer and smartphone retailers came to us with a need to repair and/or replace worn out wooden seats in their stores, we knew we'd have to reimagine our typical process. In response, we developed our refinishing exchange program. This process ensures they can refresh the chairs in every store without causing them to lose even a minute of available seating for their customers. This process also prevents any of these wooden seats from ending up in a land fill.
Additional Custom Products and Services
View our Case Studies and Learn More about our Custom Solutions
Looking for Something Unique? Contact us Today!
If you have a one-of-a-kind project and aren't sure where to start, fill out our quote request form and one of our representatives will be happy to discuss your needs.